Its size and ease of measurement makes the femur the long bone of choice in predicting gestational age.
Transducer should be aligned along the long axis of the bone so that the beam is perpendicular to the shaft.
Measured ends should be blunt and not pointed.
| | |
| --- | --- |
| <![if !vml]><![endif]> | <![if !vml]><![endif]> |
The length is measured from blunt end to blunt end parallel to the shaft.
After 32-34 menstrual weeks the distal femoral epiphysis should be visualized but not included in the measurement.
Measure the femoral

diaphysis

, but not the ossification center.
| | |
| --- | --- |
| <![if !vml]><![endif]> | <![if !vml]><![endif]> |
A minor degree of lateral curvature of the femur is commonly seen in normal fetuses.
| | |
| --- | --- |
| <![if !vml]><![endif]> | <![if !vml]><![endif]> |
Normal Femur Length (Table / Graph)
Variablilty

(wks)

12-18 wks
18-24 wks
24-30 wks
30-36 wks
36-42 wks

+/- 1.0 wks
+/- 1.8 wks
+/- 2.0 wks
+/- 2.4 wks
+/- 3.2 wks
Precision of predictors of Gestational Age
Acoustic shadowing from normal ossification results in the inability to recognize the full thickness of the ossified diaphysis. The cartilaginous ends of the bone help define the true thickness of the diaphysis. The inability to see the full thickness of the diaphysis creates the impression that the femur further from the transducer is bowed (this occurs as only the normally curved medial cortex of the femoral diaphysis is observed).
<![if !vml]>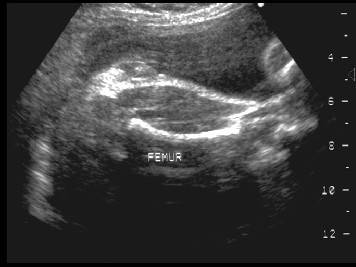 <![endif]>
A normal femur length, consistent with gestational age, and without bowing, angulation or fractures is considered adequate for screening for short limb dysplasia in a patient with no history of risk factors (1).
Normal femur foot ratio of 1.0

<![if !vml]><![endif]>

A femur to foot length (on planter view) ratio of >0.85 supports familial variation as the cause of a femur less than expected (1).

<![if !vml]><![endif]>

<![if !vml]><![endif]>
1.Seeds JW, The Routine or Screening Obstetrical Ultrasound Examination, Clin Obstet Gynecol. 1996; 39(4):824-825.