Use in cases of unusual head shape.
Use to discriminate between a normal fetal head shape and a head that is abnormal enough to alter the estimation of the fetal age based on the BPD.
CI is the relationship between the short and long axes of the fetal cranium.
<![if !supportEmptyParas]> <![endif]>
Measure at the same level as the BPD.
<![if !supportEmptyParas]> <![endif]>
Widest transverse and longitudinal (frontal-occipital diameter, FOD) diameter of the cranium at the level of the BPD.
Measure from outer to outer margins of the fetal cranium.
CI = BPD/FOD X 100

Normal = 78.3

±

1SD (74-83).
< 74 = Dolicocephaly.
> 83 = Brachycephaly.

CI is within 1 SD of the mean with a sensitivity of 84% and a false positive rate of 35% for detection of a misleading BPD value.
<![if !supportEmptyParas]> <![endif]>
<![if !vml]>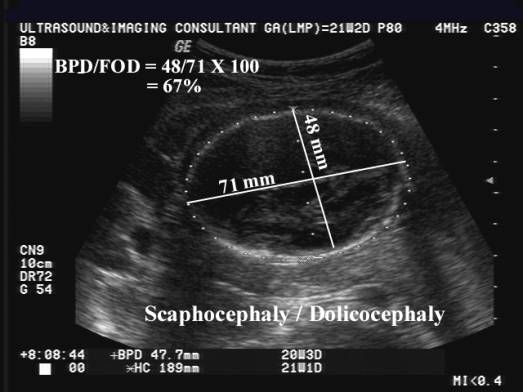 <![endif]>