INTRAUTERINE DEMISE OF A FETUS
IN MULTIPLE PREGNANCIES
<![if !supportLists]>- <![endif]>VANISHING TWIN SYNDROME  
<![if !supportLists]>- <![endif]>VANISHING TRIPLET SYNDROME
This concept was based on the findings that the incidence of early twin gestations was significantly higher than that noted later in pregnancy (about 5% versus 1 in 90 deliveries).
Can occur at any time during the gestation but is most common in the first trimester.
True loss rate is approximately 20% (1).
Loss prior to 15 weeks gestation may result in no sonographic evidence of a twin pregnancy at a later date (pathologic examination at delivery may show no evidence that the twin ever existed) (2). This has been termed the "vanishing twin phenomenon" (1,3).
Demise of one embryo in a dichorionic twin pregnancy

<![if !vml]><![endif]>

Demise of one embryo in a trichorionic pregnancy

<![if !vml]><![endif]>

<![if !vml]><![endif]>

<![if !vml]><![endif]>

<![if !vml]><![endif]>
Loss of one twin in the second trimester may result in compression and mummification of that fetus. This has been called fetus papyraceus. The compressed fetus is a thin structure of residual bone and tissue stuck against the uterine wall.
Loss of a twin in the late second and third trimester leads to fetal maceration.
Risk to surviving twin.

Minimal in dichorionic twins.
In monochorionic twins, vascular injuries as a result of thrombotic emboli or disseminated intravascular coagulation pose a small additional risk to the surviving twin (4).
<![if !vml]>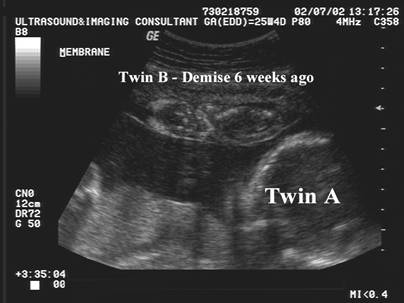 <![endif]>
VANISHING TRIPLET SYNDROME
<![if !vml]>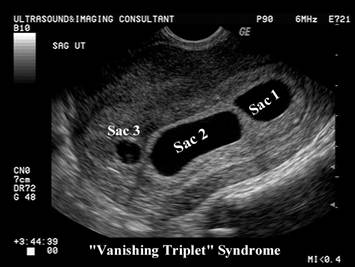 <![endif]><![if !vml]>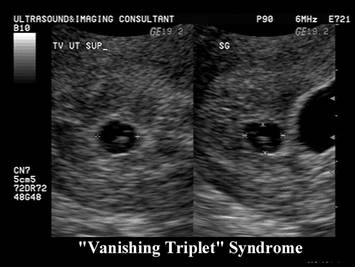 <![endif]><![if !vml]>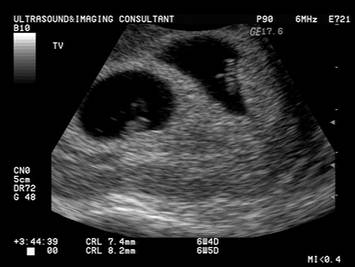 <![endif]>
Link to Outcome of Multiple Pregnancies
Landy HJ, Weiner S, Corson SL et.al. Ultrasonographic assessment of fetal disappearance in the first trimester. Am J Obstet Gynecol 1986;155:14.
Levi S. Ultrasonic assessment of the high rate of human multiple pregnancy in the first trimester. J Clin Ultrasound 1976;4:3.
Janiaux E, Elkazen N, Leroy F et.al. Clinical and morphological aspects of the vanishing twin phenomenon. Obstet Gynecol 1988;72:577.
Johnson SF, Driscoll SG. Twin placentation and its complications. Semin Perinatol 1986;10:9.